Merriweather Post Pavilion Seating Chart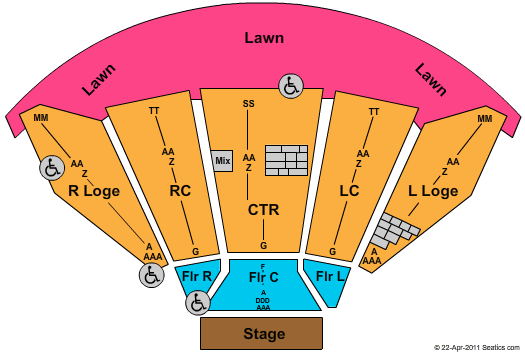 Merriweather Post Pavilion, a prime destination for music lovers and enthusiasts, promises an immersive experience with distinct seating areas tailored to various preferences and budgets. Whether you're craving the close-to-nature experience of lawn seats or the exclusivity of box seats, Merriweather has it all. Admission at the Merriweather is divided into seating, pit, and lawn tickets. There is no assigned seating for lawn tickets or pit tickets. The seating chart at Merriweather Post Pavilion is set up differently dependent on section. Here is a comprehensive overview of the different seating areas available:
Different Seating Areas
Lawn Seats: These are ideal for those seeking a laid-back, budget-friendly option. Situated on the grassy expanse in front of the stage, lawn seats offer a relaxed atmosphere where you can enjoy the performance amidst a vibrant crowd. They provide a general admission experience and ample space to stretch out and enjoy the open-air setting.
Reserved Seats
For those desiring a comfortable and hassle-free viewing experience, the reserved seats in the lower bowl area are the go-to option. These seats offer a personal space with a guaranteed unobstructed view of the stage. Positioned strategically, they ensure a splendid view of the performances, making your visit memorable.
Box Seats
Nestled in the upper bowl, the box seats present a premier option for groups or those looking for luxury. These private spaces offer excellent views of the stage. They are usually accompanied by additional amenities that elevate your experience.
Skydeck
The Skydeck is an innovative addition to the pavilion's seating options. It is on the roof and offers a panoramic bird's-eye view of the stage and the mesmerizing surroundings. This premium seating area is an exceptional choice for those seeking a one-of-a-kind experience.
Best Seats at Merriweather
Determining the best seats at the Merriweather Post Pavilion is contingent on personal preference and the nature of the event. Generally, the reserved seats in the lower bowl come highly recommended due to their optimal sightlines and superior sound quality.
If budget-friendly options are what you're seeking, then the lawn seats are a commendable choice. While they may get crowded, they offer a genuine, energetic, and communal concert experience. On the other hand, for an exclusive and luxurious experience, you might want to consider the box seats, which, although pricier, promise a VIP treatment.
Tips for Choosing the Right Seats
When choosing seats at Merriweather Post Pavilion, consider the following tips to enhance your experience:
Type of Performance
Depending on the nature of the event, some performances might be better enjoyed from specific seating areas. For instance, concerts might be best enjoyed from the lower bowl reserved seats. At the same time, theatrical performances might suit lawn seating better.
Audience Size
Popular events might surge in attendance, crowding lawn seats. In such cases, reserving or box seats can offer a more spacious and comfortable experience.
Budget Considerations
Your budget is vital in determining your seating choice. While lawn seats offer affordability, the box seats provide exclusivity, albeit at a higher price point.
Want to purchase tickets and reserve your seat?
To find out more about the tickets we offer, view the Merriweather Post Pavilion tickets page.
To see upcoming events and purchase your ticket, please view the Merriweather Post Pavilion events listing.