Merriweather Post Pavilion | Columbia, Maryland
It's time to boogie! The indie crowd-favorite blues-rock band, The Black Keys, is back and just announced the Dropout Boogie Tour, stopping by at Merriweather Post Pavilion on Monday, July 25, 2022. Tagging along in support of the tour is another indie-favorite, the Grammy Award-nominated, Band of Horses. Last year, The Black Keys released their Grammy-nominated 10th studio record, Delta Kream, featuring covers of hill country blues songs. Their biggest hits and crowd-favorite anthems include "Lonely Boy", "Tighten Up", "Gold on the Ceiling", and "Howlin' for You". Get ready to boogie with The Black Keys and book those tickets now!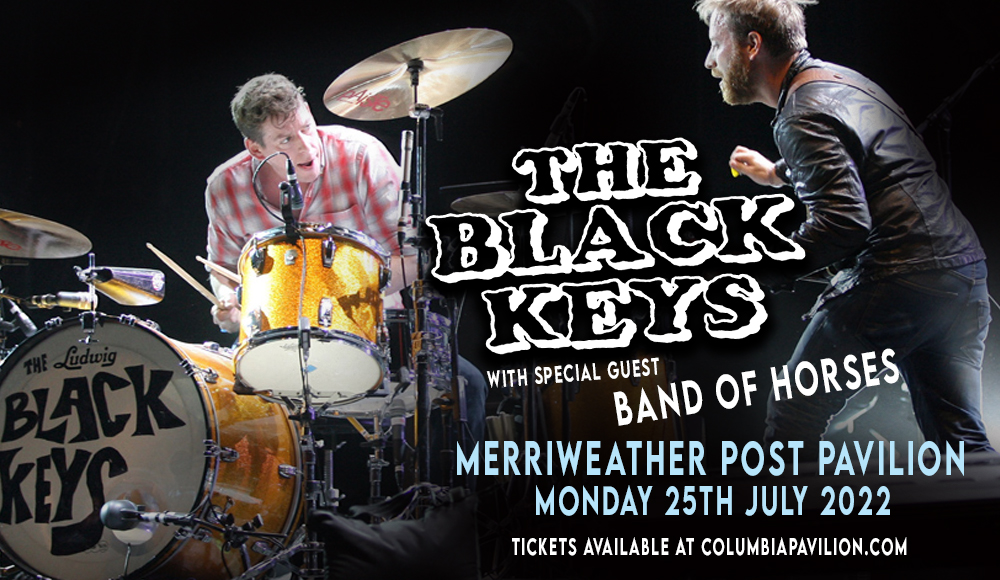 Guitarist and singer Dan Auerbach and drummer Patrick Carney were childhood friends from Akron, Ohio, both having musical backgrounds. In 2001, the duo was formed when Auerbach wanted to record a demo and asked help from Carney who would contribute recording equipment and the use of his basement. When none of the musicians whom Dan invited showed up, the two instead jammed, and thus brought to life what would be The Black Keys.
"We were shocked when we got a record deal,… and we've been constantly shocked the whole 20 years we've been a band, really," says Patrick Carney. 20 years, and ten studio records later, the band is back stronger than ever, ready to hit the stage and meet their fans.
In their first decade of making music, the band attracted a fanbase by touring small clubs and appearances in various festivals. Their third record, Rubber Factory, gained some traction and led them to score a record deal with Nonesuch Records in 2006.
By 2010, they found themselves skyrocketing to success with the sixth album, "Brothers", that featured the 3-Grammy Awards winning single, "Tighten Up". Their next album "El Camino" which is awarded 2x Platinum was also a commercial success, peaking at #2 on the Billboard 200 chart. Its single "Lonely Boy", and the record itself also won three Grammy Awards. Their eight studio record "Turn Blue" hit #1 in the US, Canada, and Australia.
After a hiatus from 2014, The Black Keys came back in 2019, releasing "Let's Rock", and "Delta Kream" in 2021. The band revisits their blues-rock roots with 11 covers of Mississippi hill country blues tracks.
The duo is back and is set to embark on this new era, having been on a journey of 20 years and counting. The Black Keys is back to rise even greater heights as they lead the crowd to boogie across the country on their Dropout Boogie Tour. It definitely is the time to boogie and book those tickets!