Merriweather Post Pavilion | Columbia, Maryland
A happy soulful-jazzy Sunday to y'all! The 28th Annual Capital Jazz Fest is back with a 2021 Special Edition, happening at the Merriweather Post Pavilion on Sunday 5th September 2021. The Soulful Sunday full line-up includes Eric Benet, Sheila E, Stokley, Tamia, Chante Moore, Shanice, Plus a special appearance by Bell Biv DeVoe. Expect a fun, family ambiance, as, amidst the musical sets, the concert attendees get a pleasurable treat of fine art and crafts at the Festival Marketplace, tickle the taste buds, and satisfy those hunger pangs with culinary treats at the food court, and meet & greet the artists. Don't miss this wonderful weekend affair. Book your Sunday pass tickets now!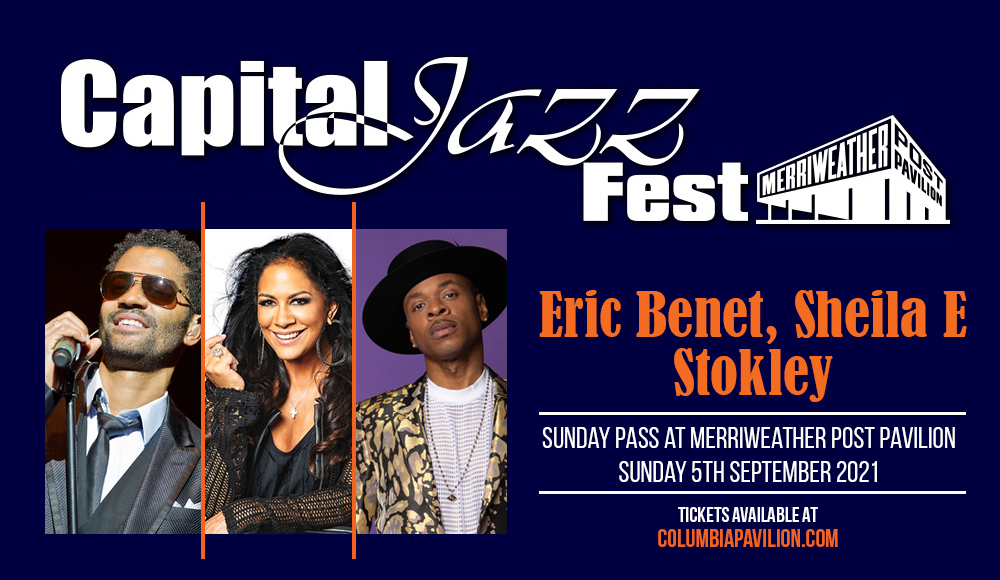 The Capital Jazz Fest has been 'the' weekend event since it was first mounted in the year 1993. We all missed 202, but 2021 comes as a "special edition" of the festival, where two stages will be combined to form one big stage where this Soulful jazz roster are set to perform:
Eric Benét : R&B soul singer, songwriter, and musician Eric Jordan Benet, or just Eric Benet, is one of the hottest and ultra-talented soul singers of this age. After his stint as a band with some family members, he pursued a solo career. His solo album "A Day In The Life," released in 1999 and the single, "Spend My Life With You," earned him a Grammy nomination in 2000, and the album also merited a Soul Train Music Award for Best R&B/Soul Album. His nominations and award-winning streaks continued as "Love & Life" in 2008 earned a Grammy nomination for Best R&B Album, as well as Best R&B Male Performance. In 2012 Eric then released his latest album "The One," which won him the SoulTracks Readers' Choice Award for Best Male Vocalist.
Sheila E. : The glamorous life ain't been much for Sheila E, as she is a penultimate artist-musician with a masterful flair for pop, funk, and jazz, singing, songwriting, and percussions. She went under the wings of Prince, who became her mentor, songwriter, producer. Their various collaborations earned her albums a nomination for an American Music Award and two Grammy nominations for Best New Artist and Best Female Pop Vocal Performance.
Tamia: It may be unusual for Canada to produce soulful singers, but out of Ontario, Tamia conquered the international charts with the hit single "Missing You", a record collaboration with Brandy, Gladys Knight and Chaka Khan, landing at the top 30 of the Billboard Hot 100. After beating Multiple Sclerosis in 2003, Tami is back at the top of her game, with her tour and album releases.
These artists, including Stokley, Chante Moore, Shanice, Plus a special appearance by Bell Biv DeVoe, are the event's biggest highlights, but those activities happening on the sidelines are equally exciting. Enjoy people-watching, eating, drinking, shopping, mingling, and making new friends. Don't miss this for the world. Book your tickets now!