Merriweather Post Pavilion | Columbia, Maryland
The Multi-platinum, and award-winning indie pop trio AJR present their newest, and best album to date, OK Orchestra, is out now. AJR, The OK ORCHESTRA Tour comes to Merriweather Post Pavilion on Saturday, May 14th 2022. Grab your tickets now to what is undoubtably going to be a "Bang" of a tour, and is guaranteed to make you "Way Less Sad". So, forget this last year and let's put "Bummerland" behind us! It's like Broadway meets Pop music, AJR Is A-OK With the Lustrously Theatrical OK Orchestra. Come along and have a blast.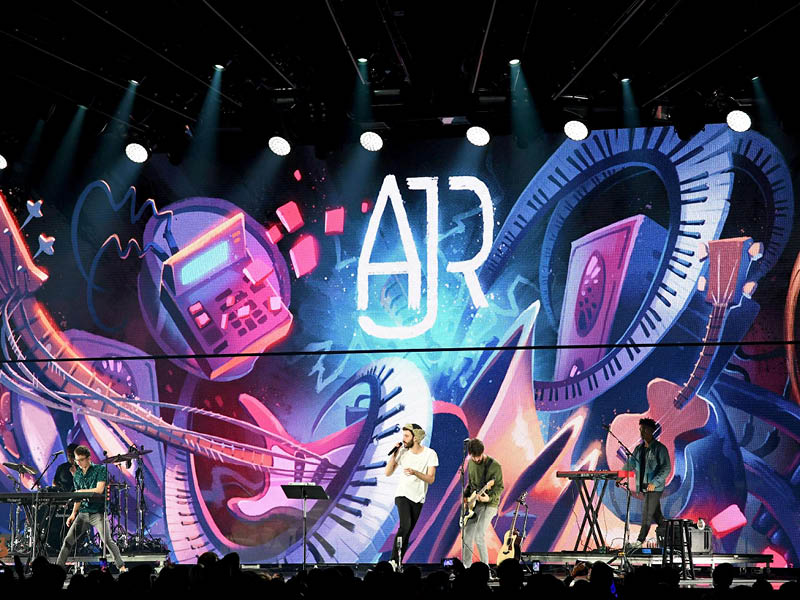 OK Orchestra, is the brand-new album from AJR, debuting at number 1 on the Billboard Alternative and Rock and number 10 on the Billboard 200 charts on release. Their platinum-certified single, "Bang!," pairs a carnival-evoking horn section with skittering trap hi-hats. And yet this strange coupling has produced a hit, peaking at No. 8 on the Hot 100, becoming the band's first top 40 entry, and first top 10 entry. The song is their strongest commercial release so far, and it gave them their first-ever Billboard Music Award for Top Rock Song. The single, "Way Less Sad" is poised to be one of the biggest songs of the summer, so far generating more than 80 million streams, and is spending its ninth-strait week on the Billboard Hot 100, it just hit number 10 on Pandora's Top Spins Chart, peaking at number 4 on the Rock Airplay and number 5 on the Hot Rock & Alternative Songs charts.
AJR, are multi-instrumentalist brothers Adam with vocals, bass guitar, programming, samples and percussion, Jack with lead vocals, guitar, melodica, ukulele, drums, percussion, keyboards, synthesizers, samples, programming and trumpet, and Ryan Met with vocals, programming, keyboards, ukulele and trumpet. Their new album follows a similar trend to their previous album, Neotheater, which debuted at number 1 on Billboard's Top Alternative Albums, number 1 on Billboard's Top Rock Albums, number 8 on the Billboard 200, and hit number 1 on the Top Rock Albums chart!